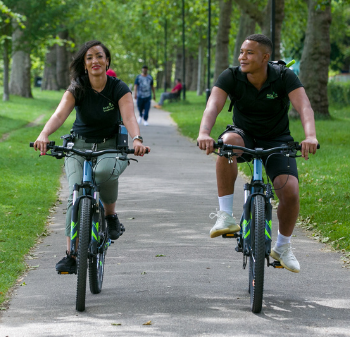 What is Acacia Facilities?
Acacia Facilities specialises in interior and exterior landscaping from design to finish, including garden, pot and replica plants, living walls, fresh cut flowers and seasonal decorations, alongside maintenance services. Acacia Facilities was founded by Natalie in 1996 to transform spaces with plants and is based near Rectory Road in Hackney.
Why did Acacia Facilities join the Zero Emissions Network?
The business was aware of the impact it was having on the environment and wanted to reduce its carbon footprint. Acacia Facilities received a ZEN Workplace Travel Grant to fund the purchase of two e-bikes. 
How has ZEN helped the business? 
Staff make up to 10 trips a week on the e-bikes, travelling around 25 kilometres through Hackney, Islington, Tower Hamlets. Prior to receiving the ZEN grant they were using a vehicle for these deliveries. The e-bikes have helped the business save time, money and improve staff wellbeing. 
Natalie said:
'Since acquiring the e-bikes with the help of ZEN, life has become so much easier travelling around London. We mainly use the bikes for our plant maintenance services and the floral displays we offer to our clients in the city. No more worries about traffic or parking, we do have an electric van but it's easier to avoid traffic by jumping on the bikes. We are very passionate about doing our bit to save the planet and our staff are enjoying the fitness of cycling at work.' 
Interested in using an e-bike for your business? Email zen@hackney.gov.uk or fill in the contact form below to arrange your free e-bike trial.