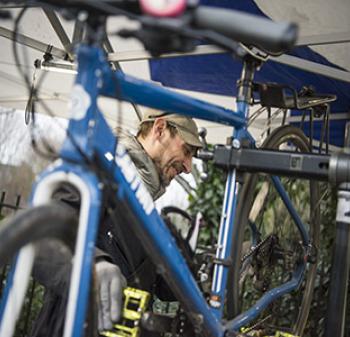 Who are Access Sport?
Access Sport  is a charity based in Bethnal Green that helps disadvantaged children to experience and enjoy a diverse range of sport. The charity supports young people aged 5-25, with a particular emphasis on under 18s who are disabled, disadvantaged or excluded from society.
Why did Access Sport get involved with the Zero Emissions Network?
Access Sport was interested in equipping their staff with basic cycle maintenance knowledge to keep them cycling all year round and approached the Zero Emissions Network to book in a free fix your bike course. The charity also applied for a sustainable travel grant to buy pool bikes for staff to use.
How did it benefit the charity?
A better knowledge of bicycle maintenance encourages an increase in cycling in the workplace. It was also great for the staff to learn about general bike maintenance as part of their services includes cycle training and those staff memebrs who completed the course, can now pass knowledge on to a wider audience. The pool bikes have given the staff the opportunity to cycle to meetings around the city, improving their health and wellbeing and often cutting down on journey time.
"I love cycling, but I recently moved to London from US and was intimidated to try cycling in a new city, especially on the other side of the road. With a few months of convincing from my colleague, I finally tried cycling home from work.  I had a blast and owe it all to the electric bike! My commute was cut in half and it was super easy to use and very comfortable.  I can't wait to use it again soon! The two pool bikes have been a fantastic addition to the office. Having the electric bike means I can get to meetings as far away as Greenwich and Brixton quicker and cheaper than getting the tube. Plus it has had the added bonus of encouraging more staff members to try out cycling their commute to work" Abbie, Club Development  Officer, Access Sport
'I personally got a new chain and cassette put on (which I tell everyone I did all by myself) and the knowledge to fix future issues with my bike. I was surprised how much I was able to do by myself, especially with tuning the gears. Patrick was great at explaining everything and being upfront about what we would need to know. The Fix Your Bike Course gives you a feel for what is possible to do yourself without paying out for an expensive mechanic.' Harriet, Women & Girls Development Manager, Access Sport
Interested in booking a Fix Your Bike course? Get in touch with the form below.