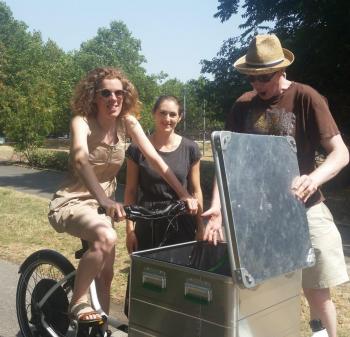 Who are Acme Studios?
Acme Studios is a charity that provides affordable studio and living space for professional visual artists across London through developing and managing properties.
Why did Acme Studios join the Zero Emissions Network?
Acme Studios joined the Zero Emissions Network in June 2018 for help to become more sustainable. Acme Studios support fine artists across seventeen studio buildings in London and as staff need to travel between sites with tools and equipment,  the charity were were interested in finding an emisson free way of doing this. The Zero Emissions Network set up a free, two day cargo bike trial to test out the alternative transport method for the charity to see if it was compatible with their operations.
How did it benefit the charity?
Staff found it great to use the bike in their workplace context and enjoyed having it for a couple of days as it meant different people could try it. Staff would reccommend trialling an electric cargo bike as the motor made the bike feel much lighter. Although an eletric cargo bike was not the right solution for Acme Studios, the Zero Emissions Network is helping the charity secure a pool e-bike so staff can practice commuting to work by bike as well as carrying small equipment between sites.
'In the end it wasn't the right vehicle for us, because many of our staff would use this bike but only on certain occasions, no-one would ride this every day. However I imagine it would suit a lot of businesses: tradesmen transporting tools / materials, caterers or delivery drivers.' Ben, ACME Studios
Interested in trialling an electric cargo bike for your business? Get in touch with the form below.