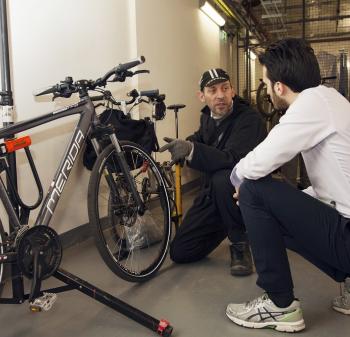 Who are AECOM?
Aecom is a global engineering firm that provides design, consulting, construction and management services.
Why did AECOM get involved with the Zero Emissions Network?
With over 100 staff working at the London Office in Aldgate Tower, Aecom approached the Zero Emissions Network as they were keen to support staff to cycle to work. Aecom applied for a full day of Dr bike services so staff could have their bikes checked by qualified mechanics to ensure they were safe and road-worthy.
How did it benefit the company?
The full day service enabled staff to drop-in and also book appointments throughout the day with minimum disruption to their office work. The free service entailed mechanics offering bespoke advice to each cyclist on the condition of their bike and how best to maintain it. The mechanics were able to service over 20 bikes at Aecom which will keep staff cycling safer.
"The Dr Bike was very helpful, really good pointers on the brakes which are difficult to fix. Definitely improved my knowledge of how to maintain my bike in 30mins. I'd recommend to anybody, especially if using a bike on a frequent basis." Aecom staff member
Interested in a Dr Bike? Get in touch with the form below.