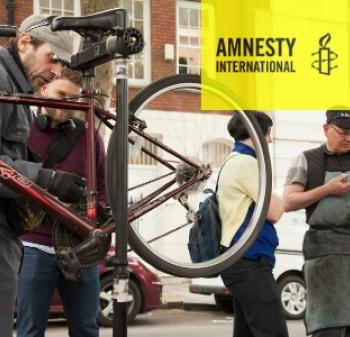 Who are Amnesty International?
Amnesty International is the world's leading human rights organisation, campaigning against injustice and inequality. The charity is based in Hackney and have been members of the Zero Emissions Network since May 2014. 
Why did Amnesty International join the Zero Emissions Network?
Amnesty International joined the Zero Emissions Network as they were interested in reducing their emissions and making their office more energy efficient. After spotting the offer of a free Dr Bike, the charity were keen to get themselves booked in ahead of winter. Amnesty International wanted everyone's bikes to be in a good condition to encourage people to continue to cycle to work throughout the colder months. 
How did it benefit the charity?
The Dr Bike proved popular with staff as the mechanic was able to offer bespoke advice to individuals.  
'The event was a success . A couple of people who had not signed up to it asked if their bikes could still be seen on the day and we managed to include them. Everyone was pleased with the service and "Dr Bike" himself was very engaging and helpful. He took the time to explain what he was doing'. - Sofia, Amnesty International
Interested in a Dr Bike session for your workplace or neighbourhood? Get in touch with the form below.