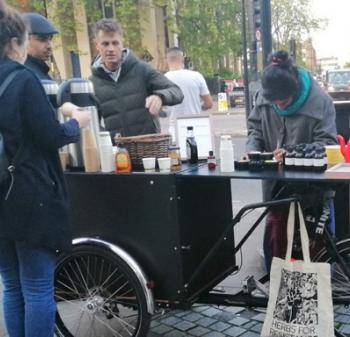 Bethnal Green Nature Reserve Trust is a charity established in April, 2016. It grew directly out of an ongoing collaboration between Nomad Projects and the Teesdale and Hollybush Tenants and Residents' Association. Its three guiding principles are Ecology, Arts and Education.
The Zero Emissions Network provided a grant to Bethnal Green Nature Reserve Trust to purchase a cargo bike and they have shared their experience in their own words below:
"We joined the network hoping to reduce our dependency on vehicles to transport equipment and materials across the borough and wider London. We also hoped the bike would encourage our team to be more physically active throughout the day.  
The ZEN Cargo-bike revolutionised our work. It reduced our use of transport vehicles by 90% this past year, while providing our team with an enjoyable way to move about the borough. The bike is great to ride and has helped our project become more recognisable locally. 
The bike has also inspired the development of the Mobile Apothecary project. The Mobile Apothecary is a collaboration between Phytology, Rasheeqa Ahmad (aka Hedge Herbs), and a growing network of talented volunteers spanning the areas of arts, herbalism, and horticulture/growing. The bike has enabled us to distribute high-quality, homegrown and herbal remedies (cough syrups, decongestant rubs, join and muscle balms, hand sanitisers, herbal teas) to local food banks and street kitchen services across Hackney & Tower Hamlets. The bike has become a major component of our weekly distribution, especially during the pandemic." (Michael Smythe, Nomad Projects) 
If you would like advice on how to do your deliveries differently or have a free cargo bike trial please contact us here.