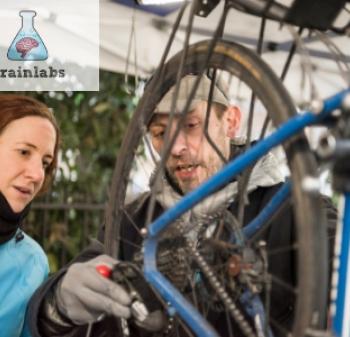 Who are Brainlabs?
Brainlabs is a world renowned marketing agency based in Shoreditch.
Why did Brainlabs join the Zero Emissions Network?
Brainlabs has a large staff base and set up a Green Committee to manage all sustainable and green projects in their office. A large part of this was offering staff opportunities that encouraged sustainable travel. They also wanted to make sure that their offices were running with minimal waste and emissions. They joined the
Zero Emissions Network to help facilitate the changes that their Green Committee were looking to make. 
How has the Zero Emissions Network benefited Brainlabs?
Since signing up to the network, Brainlabs has taken up an impressive number of emission reducing measures to promote sustainability in the workplace. The company has applied for a sustainable travel grant to purchase pool bikes and Santander cycle hire memberships that can be used by staff to travel to meetings. Brainlabs have booked a cycle safety seminar for staff, giving employees an opportunity to learn about safe cycling in London. Complimentary to this, the company has helped three staff members access cycle training to help them become more confident cycling around the city. Brainlabs then booked a 'Fix Your Bike' course to teach staff how to conduct their own bicycle maintenance. They promoted cycling in the workplace and booked an eco-audit for the office that looked at waste, water and energy. New and efficient recycling systems were introduced and advice was given on how to save energy.
Not only have the Green Committee of Brainlabs used the Zero Emissions Network offers and measures, but they have also implemented a greening project in their office and have introduced air improving plants to corners of the office to promote indoor air quality. 
'Working with the ZEN enabled the Brainlabs Green Committee to take huge steps forward in reducing the company's carbon footprint and encouraging our colleagues to do the same in their everyday lives. The utilisation of the ZEN grant and ZEN Energy Audit allowed us to make our office a more energy efficient and recycling friendly environment, and the support from our ZEN officer during this process was excellent.
The Fix Your Bike Course, cycle training, and ZEN travel grant provided Brainlabs staff the opportunity to develop their cycling and bike maintenance skills, and chose a greener mode of transportation. We've had some great feedback on the ZEN offers we've run and would highly recommend other companies to utilise the ZEN in future.' Hayley, Brainlabs
Interested in taking up any of the offers that Brainlabs have been involved in? Get in touch with the form below.