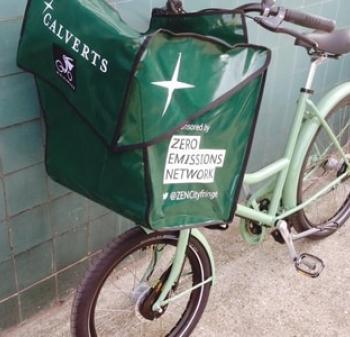 Calverts is a design, print and production cooperative based in Bethnal Green, London.
Calverts was awarded a grant from the ZEN to purchase a custom-made cargo bike. The cargo bike has since allowed Calverts to lower their travel emissions from local deliveries to clients and suppliers. The bike is also useful for client meetings when samples of work are taken and acts as an effective marketing tool for the co-operative. It also encourages staff to get healthier and re-think their travel behaviour.
"I'd just like to say thanks to ZEN for the grant for the cargo bike. It's part of Calverts and we use it as much as we can. It's a great way of delivering to our customers - they love it! It's very personal and makes it part of a wider story." Lee Sargent - Director and Environmental Manager, Calverts. 
Calverts are also partners on the ZENCARD and offer 10% off sustainable print services
Interested in a ZEN grant? Get in touch with the form below.