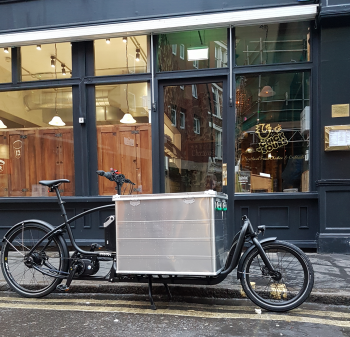 Who are Champagne Lasseaux?
Champagne Lasseaux is a Champagne company based in Hackney that delivers all over London.
Why did champagne Lasseaux get involved with the Zero Emissions Network?
Champagne Lasseaux were interested in making their company more sustainable by switching their delivery car for a cargo bike and applied for a Zero Emissions Network grant to help fund an electric cargo bike.
How did it benefit the business?
Nearly all deliveries are now undertaken by cargo bike. By match funding the grant, Champagne Lasseaux were able to purchase a larger, electrically assisted cargo bike that is capable of carrying up to 100 bottles of champagne. This has reduced the cost of delivery as there are no fuel costs, no congestion charges and parking is a lot easier. Not only is the business saving on cost and making business more convenient, but their customers love to see that their champagne is being delivered emission free.
"The ZEN grant helped me purchase a cargo delivery bike with electric assistance, which has greatly reduced my reliance on car deliveries. I can fit up to 100 bottles in the weatherproof case and I have not paid congestion charge or received parking tickets since I started using it. Less pollution, less congestion, more exercise and more client interaction when they see Champagne being delivered on a bicycle. Thank you ZEN!" Vincent Lasseaux, Owner, Champagne Lasseaux
Interested in cargo bikes? Get in touch with the form below.