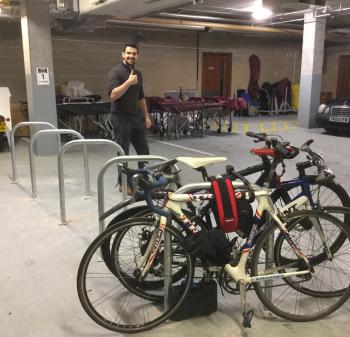 Who are the East London Mosque?
The East London Mosque & London Muslim Centre is in the heart of Tower Hamlets and joined the network in November 2014.
Why did the Mosque get involved with the Zero Emissions Network?
The staff at East London Mosque completed travel surveys to understand what would encourage more sustainable travel in the work place. These surveys showed that an increase in cycle parking would ecourage cycling amongst staff and the mosque applied for a grant from the Zero Emissions Network to install cycle parking. 
How did it benefit the Mosque?
Management removed a parking bay to make way for 10 cycle racks which were provided by TfL's Cycling Workplaces Scheme. The Zero Emissions Network grant was used to install the cycle racks and to purchase a pool-bike, tool-kit and cycling leaflets. Staff at the East London Mosque now have a secure and sheltered space to store their bikes. The pool bike allows staff to cycle to business meetings as well as an opportunity to test cycling to and from work before staff make an investment in buying their own bike.
"I have been on the fence about cycling to work for a while, but I am thrilled to be able to now. Many of us are keen to lower our carbon footprints, and thanks to the Zen grant, the cycle racks we were able to install will go a long way in greening up our Mosque" Shehroze, Campaigns Manager, East London Mosque
Interested in cycle parking for your workplace? Get in touch with the form below.