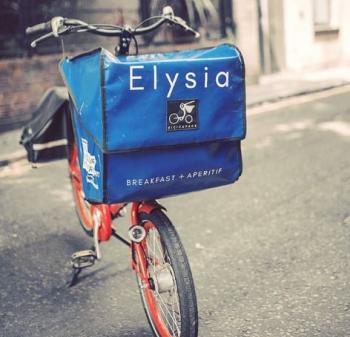 Who are Elysia?
Elysia Catering is a social enterprise and catering company based in Islington, committed to reducing food waste. Elysia hand-makes breakfasts & canapés with local artisan rescued food and delivers them to offices and events. 
Ever the innovators, Elysia reacted immediately to the new situation of the lock down and self isolation by preparing organic food boxes and delivering them to people's homes. As restrictions ease, they are adapting again and offering event style food boxes for Zoom Conferences where you might want pre-selected 'gift boxes' to be delivered to your clients or colleagues' doors.
The Zero Emissions Network has helped Elysia along the way with cargo bike trials and grants and they have shared their experience in their own words below:
"We joined the network thanks to Impact Hub Islington a couple of years ago. At Elysia, we wanted to develop a catering delivery service by bike only and ZEN was offering cargo bike trials. It is a brilliant initiative and really convinced us to move to cargo bike delivery.
ZEN is the most helpful network I have been part of. First of all, they are available to help  -  their team has always been very reactive and helpful when we needed a contact or advice in terms of transportation. Then, they organise events with very concrete solutions for businesses and showcasing local companies. Last but not least, ZEN offered us a grant for our first cargo bike. This initial investment would have been difficult to do quickly for us and their help was very beneficial for the growth of the company quickly. 
More recently ZEN provided us with an additional bike to help with the deliveries during the lockdown. It helped us once again in a very practical way and allowed us to test a new market with home deliveries."
(Sophie Andre, Founder)
If you would like advice on how to do your deliveries differently or have a free cargo bike trial please contact us here.