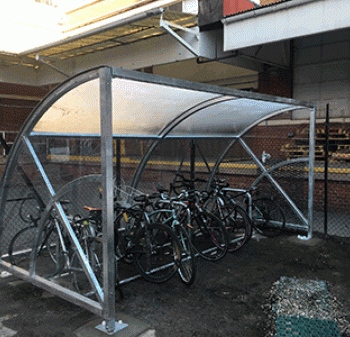 Finsbury Business Centre is a large, family-run workspace in Clerkenwell, which houses over 60 local businesses. The centre joined ZEN in 2016, wanting to improve its environmental performance and increase tenant engagement.
They have benefited from a range of ZEN offers including:
As an active member of the ZEN, Finsbury Business Centre has used the ZEN offers to help their tenants walk and cycle more. The ZEN Travel Grant helped provide secure cycle parking.
"The ramshackle bike shelter in our car park was a sight for sore eyes. Hastily cobbled together some 15 years ago, and made out of tennis court wire, it offered scant protection from the elements, and was a security risk as the wires could be cut with ease. We therefore applied for a grant to get a new shelter from ZEN. The new shelter means that commuters' bikes will now stay dry, and the adjustments that we have made to the exterior, by the addition of an iron fence, hopefully means that any unwanted visitors will be kept out of our shiny, new bike sanctuary."
Ian Hudson - Director, The Finsbury Business Centre
The centre also hosted a ZEN business breakfast in their new café space and were featured as speakers at ZEN's 2017 networking evening.