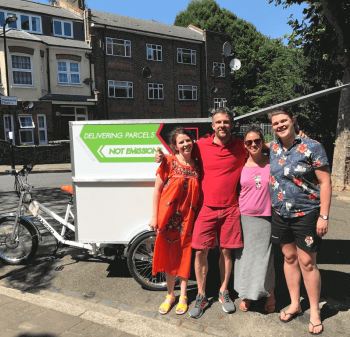 Why move house with a petrol van when you can use a cargo bike. Our Hackney resident, Kate, came to us to ask how she could move house emission free. Thanks to our amazing partner, Pedivan, we have the answer.
Pedivan uses unique tricycle vans that offer all the benefits of being a cycle, but with an amazing 1.7 cubic meters of cargo space and a 300 kg payload limit. We put Kate in touch with Pedivan and she was able to book her move from Hackney Central to Upper Clapton with ease. Moving is always stressful, especially when you realise that you have a lot more than you thought you had, and Kate was no exception. She had packed up her whole room and needed to move a chest of drawers, side table, mattress topper, guitar and loads of bags and boxes filled with clothes, shoes and stuff.
'I was so worried that it wouldn't fit, but Zoltan was amazing and expertly packed everything safely inside and all I had to carry to the new house were my plants' said Kate. The spacious design of the pedivans are great for all, 'It is truly incredible how much fits inside. I would recommend Pedivan to everyone. The cargo bike can be parked off road so there wasn't that added stress of blocking traffic or having to lug my stuff down the road to a loading bay. You get amazing and speedy service without having to worry about how many emisisons you are responsible for. I give Pedivan 5 stars!' Kate, resident.
Pedivan is suitable for anyone looking to move goods across London, but it is especially valuable for most storehouses, e-commerce companies and high street shops; multi drop-off delivery enterprises with a daily requirement for distribution within the 5 miles radius of Central London. Our ZEN business members get 2 free rides to the value of £50 when they use Pedivan. Residents get 15% off deliveries.
Interested in using Pedivan with ZEN discount? Get in touch with the form below.