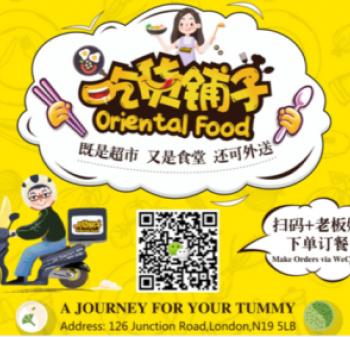 Who are Oriental Food?
Oriental Food is an Islington grocery store and takeaway on Junction Road N19.
Why did Oriental Food get involved with the Zero Emissions Network?
Oriental Food made the switch to an electric bike with the help of a £200 E-bike Switch grant from the Zero Emissions Network. The delivery riders were able to test the bike out in advance through a free trial.
How did it benefit the business?
Thanks to the grant, the shop has transferred some of its 20-30 deliveries a week onto the zero emission electric bicycle. In addition to the e-bike, Oriental Food has one petrol scooter. The shop plan to trade it in for an electric scooter later this year, further reducing pollution and avoiding the high maintenance costs that come with running a petrol bike.
Any delivery business or rider in Islington, Hackney or Tower Hamlets can apply for a free trial and grant to help switch to electric bikes. Please register your interest here and one of the members of the team will be in touch. 
'The electric bike looked so cool when we received it! After using it, we really feel it will be very useful. As the e-bike uses only battery power to ride, it can be very environmentally friendly. In addition, the e-bike is more flexible to use than cars and scooters when the traffic is terrible. The efficiency of using the e-bike for our short-distance deliveries is also better than scooters. Our customers like our e-bike as well. It can be the icon of our shop and is recognised easily. Our shop really appreciates this offer that has helped us have our own e-bike.' Simon, Owner, Oriental Food
Interested in the scooter switch scheme? Get in touch with the form below.