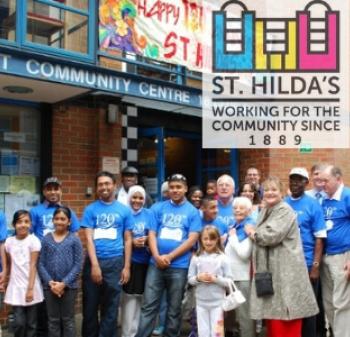 Who are St. Hilda's?
St. Hilda's East is a vibrant multi-purpose community centre in Tower Hamlets. The charity offers a wide programme of activities including advice services, youth projects, support for parents and pre-school children, work with older people, women's projects, volunteering placement and carers' respite.
Why did St Hilda's East join the Zero Emissions Network?
St. Hilda's were looking to encourage sustainable transport in the community centre by encouraging cycling amongst staff. The centre also wanted to move away from donation pick ups and drop offs that were being undertaken by taxi and petrol cars. The Zero Emissions Network were approached for bespoke advice on how to promote cycling in the workplace. The charity applied for a grant to fund an electric pool bike and bicycle trailer to move their goods across the borough and provide more flexibility with zero emissions.
How did it benefit the charity?
The community centre now encourages staff members to travel between their site in Spitalfields and their site in Shadwell using the pool electric bicyle which has proven to be a popular choice of travel. St. Hilda's is also able to pick up and drop off donations that they receive using the detatchable bicycle trailer which saves time, money and hassle over using taxis or cars.  
'Staff have used the electric pool bike to travel to meetings locally. The trailer has been incredibly useful in reducing our emissions. We routinely collect donations using the trailer from our charitable partners at Sainsburys and Tesco. The trailer has also been useful in helping us to avoid unnecessary taxi journeys. For example, we brought equipment from this year's Fun Palace from St Hilda's East to Rich Mix using the trailer. ' - Bethan, Development & Fundraising Officer
Interested in making your business more sustainable? Get in touch with the form below.