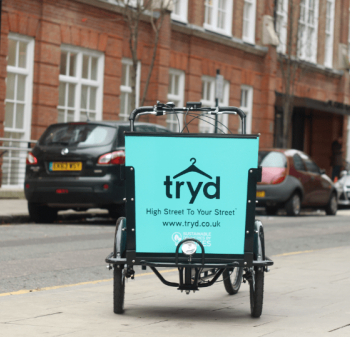 Who are Tryd?
Tryd is a Shoreditch based eco-delivery service that delivers goods from high street retailers directly to customers at home or at work within a defined 1 hour delivery slot.
Why did Tryd join the Zero Emissions Network?
Tryd were referred to the Zero Emissions Network by E-bike Switch partner ETT Industries. Tryd were keen to use e-bikes to deliver goods and were seeking practical information and advice to ensure their riders were well equipped to start work. 
How did the E-bike Switch Toolkit benefit the business?
Tryd were able to organise a one day cycle training course for all their delivery riders using the health and safety guidlines from the E-bike Swith Toolkit. The business was also able to source the correct clothing for their riders as well as bags and boxes for carrying goods on the e-bikes. In 2019, Tryd established a fleet of 10 e-cargo bikes with help from the Energy Saving Trust's eCargo Bike Grant Fund. The business is looking to expand its eco-friendly fleet by adding a further 5 e-cargo bikes in the summer of 2020. 
Erkut, founder of Tryd said:
"The ZEN team and the toolkit has been an invaluable resource in navigating the ever changing area of sustainable transport to help develop our delivery service.'