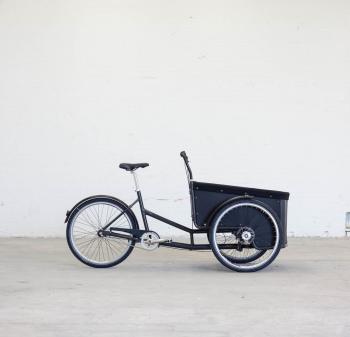 Who are Veg and Bread?
Veg and Bread provide weekly deliveries of seasonal, British produce from their base in Hackney Wick. The business joined the ZEN in November 2018.
Why did Veg and Bread join the Zero Emissions Network?
Veg and Bread were keen to make their deliveries more sustainable by making sure that their customers receive their vegetable and bread orders emission free. The Zero Emissions Network set up a free, two week cargo bike trial to test out the alternative delivery method for the business. 
How did it benefit the business?
After experiencing how convenient and efficient the cargo bike is for deliveries, Veg and Bread are convinced that sustainable delivey is the next step for the business. They are now looking to purchase a cargo bike and are even considering the option of a second electric assist cargo bike for their market run, where they pick up the heaviest loads. 
'The bike was great, we found it very manoeuvrable and steady in traffic. Other road users seemed quite respectful and gave us plenty of space on the road. The bikes are a great cost and emissions saving, I look forward to seeing more of them on the roads in coming years. The team at Hackney Council and London Green Cycles were very pro active and helped us through the process quickly and efficiently.' Ollie, Co Founder, Veg and Bread Ltd.
Interested in a cargo bike trial for your business? Get in touch with the form below.