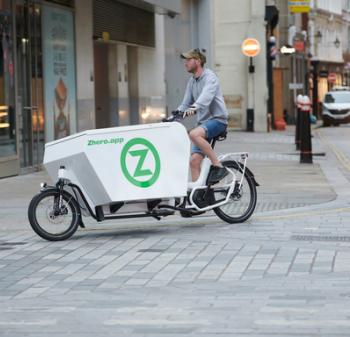 "Being a part of the Zero Emission Network really helped us at Zhero formalise our strategy in the early stages of developing our business. We've met wonderful like-minded people at their networking events, and realised that we were definitely not alone in trying to make our local area more sustainable. We're excited to see the network grow and welcome more members, and hope to present the efforts we are making to help London reach net-zero at a future event. ZEN membership also adds weight to our belief that we take the climate emergency seriously, how we have built this into our company ethos, then bring this to the table when working with our clients"
Why did Zhero Logistics Ltd join the Zero Emissions Network?
To engage with local efforts to address the climate emergency, and to be a part of this incredible local initiative helping local businesses address this desperate need. 
What did it lead to for Zhero Logistics Ltd? (benefits/discoveries)
New connections, from both business and campaigning quarters.
Discovered that our home borough (Hackney) is at the forefront of efforts to bring about zero-emission streets.
Ability to trial cargo-bikes and assess their suitability for our needs (we've subsequently bought one and have more coming soon!).
Found out about the ways in which local businesses have been supported by ZEN in their efforts.
Discovered the grant options available for businesses wishing to switch to low or zero emission vehicles.
Found out about the efforts being made by local authorities to improve EV charging infrastructure.