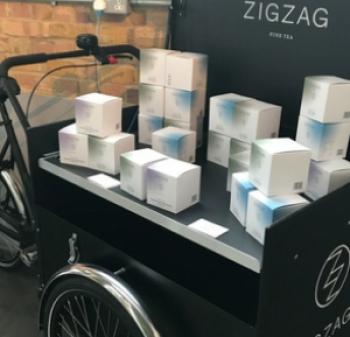 Who are Zig Zag Tea?
ZigZag Tea is a Tower Hamlets based company that supplies over 100 independent shops with ethically sourced tea made from sustainable ingredients. 
Why did Zig Zag Tea get involved with the Zero Emissions Network?
Zig Zag Tea was awarded a grant from the Zero Emissions Network to help purchase a custom-made cargo bike for trading tea products at markets and events.
How did it benefit the business?
The cargo bike has since allowed the company to travel more sustainably and become less reliant on taxis, private cars and public transport. Not only does the cargo bike look great but it also acts as an effective marketing tool for the company and keeps staff healthy.
"I heard about ZEN from a fellow start-up business called Black Box Coffee at a market we both attended. I wanted a cargo bike to help me with deliveries and for all my future events to be more sustainable. Having the cargo bike makes such an impression and I enjoy riding it around town" Lucy, Founder, Zig Zag Tea
Interested in a grant for a cargo bike? Get in touch with the form below.