Submitted by

Constant McColl

on Tue, 2019/10/29 - 14:48
Hackney, Islington and Tower Hamlets Councils are running cycle pit stops throughout November and December to help you be bright and stay in sight this Winter. As well as offering free bike maintenance, the sessions aim to raise awareness of the changing daylight and weather conditions and the measures we can take to keep safe on our roads.
What are the pit stops?
Free bike lights and winter cycling tips, free bike check and bike marking by the Met Police
Who are they for?
Anyone is welcome, even if you are not on your bike. It's free and no booking required, just come along
When and where?  
Wednesday 6th November, 4pm-7pm, Islington Town Hall, N1 2UD

Thursday 7 November, 8am-10am - Naval Row, E14 (on CS3)

Thursday 7 November 3pm-6pm - Goldsmith's Row / Hackney City Farm 

Thursday 14 November 3pm-6pm - St Peters Way

Tuesday 19th November, 4pm-7pm, Navigator Square, N19 3TD 

Thursday 28 November 3pm-6pm- Leabridge road bridge

Wednesday 4th December, 4pm-7pm, Islington Town Hall, N1 2UD

Thursday 5 December, 8am-10am - Ropemakers Field/Narrow Street, E14 (on CS3)

Tuesday 17th December, 4pm-7pm, Navigator Square, N19 3TD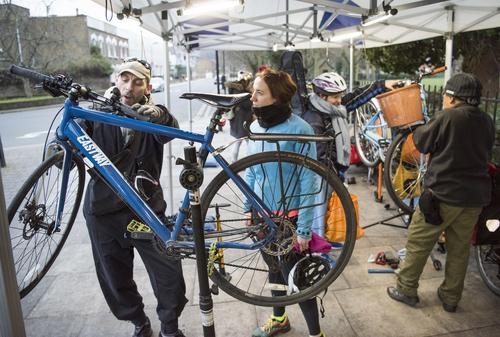 We are sure there is no need to remind you that the nights are getting longer and the weather is getting wetter and colder which might make the thought of walking or cycling to work that little bit less inviting. 
Using your bike or walking to get to work, however, is still the cleanest way to commute and as well all the health benefits it helps keep London's air clean. Having a bike that is well maintained will be safer and more enjoyable when you are cycling. We want to help you keep safe, warm and visible on your bike this Winter.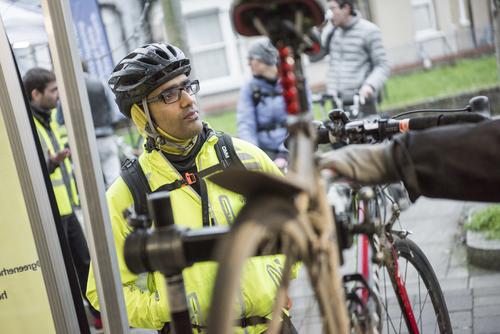 Now that the clocks have gone back there is a big change in the light conditions for everyone. Having a front and back light and wearing hi-vis clothes is really important. Also, remember that you might not be able to see as well when travelling to and from work whether you are walking, driving or riding your bike so take extra care on your commute.
If you are feeling less confident about cycling in the winter you can always sign up to free cycle training with the Zero Emissions Network in Islington, Tower Hamlets or Hackney.