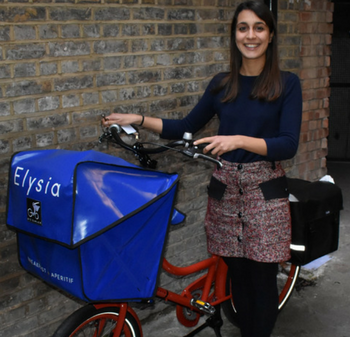 Who are Elysia?
Elysia Catering is a social enterprise and catering company based in Islington, committed to reducing food waste. Elysia hand-makes breakfasts & canapés with local artisan rescued food and delivers them to offices and events.
Why did Elysia get involved with the Zero Emissions Network?
Founded in 2016, Elysia originally used a standard bike to deliver small amounts of food and relied on taxis for all other jobs. Elysia is passionate about the environment and joined the Zero Emissions Network in late 2017.   A cargo bike trial was arranged through London Green Cycles.
How did it benefit the business?
The success of the trial motivated Elysia to purchase a cargo bike with the help of a grant. The new delivery bike means taxis are only needed for the occasional large event, reducing emissions and congestion. The bespoke bike has enabled Elysia to advertise their brand on the go as well as enabled a second staff member to start cycling.  Elysia has also catered one of the Zero Emissions Network business breakfasts, providing attendees with a range of delicious rescued food. 
Interested in a cargo bike trial? Get in touch with the form below.